Switzerland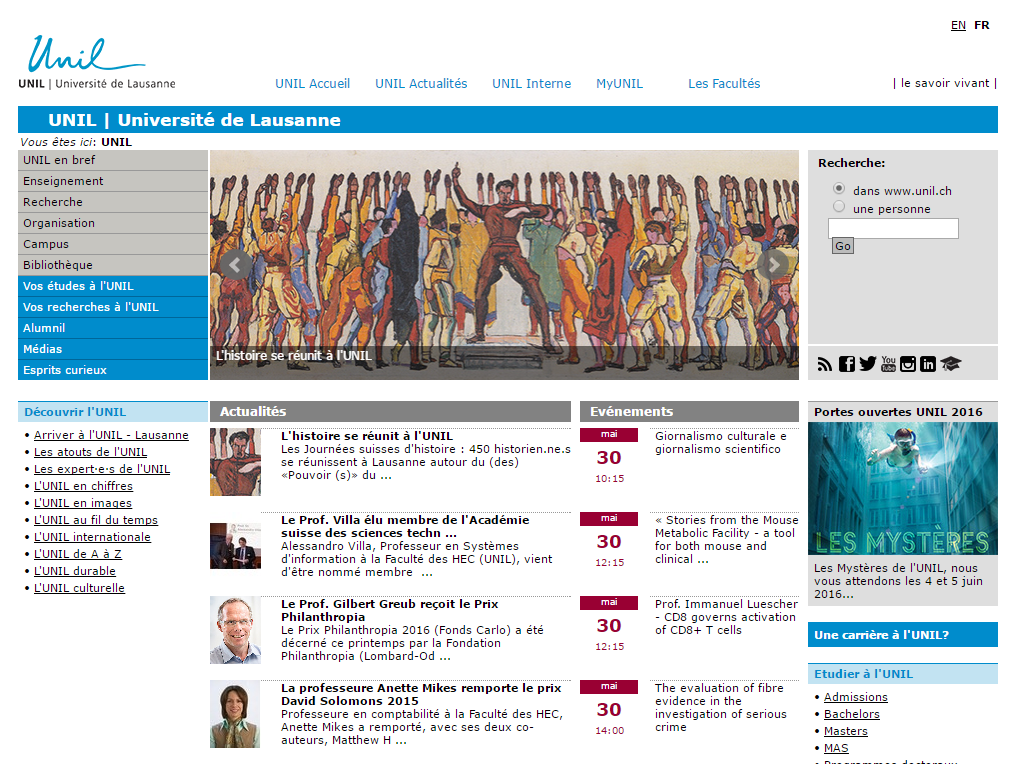 City : Lausanne
Web site : www.unil.ch
The University of Lausanne (UNIL, French: Université de Lausanne) in Lausanne, Switzerland was founded in 1537 as a school of theology, before being made a university in 1890. Today about 13,500 students and 2,200 researchers study and work at the university. Approximately 1,500 international students attend the university (120 nationalities), which has a wide curriculum including exchange programs with world-renowned universities.
Since 2005, the University follows the requirements of the Bologna process. The 2011 Times Higher Education World University Rankings ranked the University of Lausanne 116th globally. The CWTS Leiden Ranking 2015 ranks the University of Lausanne 11th in Europe and 41st globally, out of 750 universities.
Together with the École polytechnique fédérale de Lausanne (EPFL) the university forms a vast campus at the shores of Lake Geneva.
Faculties and schools
The University of Lausanne comprises seven faculties:
Faculty of Arts
Faculty of Biology and Medicine (FBM)
Faculty of Business and Economics (HEC), also called HEC Lausanne
Faculty of Geosciences and Environment (GSE)
Faculty of Law, Criminal Justice and Public Administration (FDSC), including the Swiss Graduate School of Public Administration
Faculty of Social and Political Sciences (SSP)
Faculty of Theology and Religious Studies (FTSR)
The University of Lausanne also comprises schools and different sections, including but not limited to:
School of Criminal Justice (ESC)
School of French as a Foreign Language (EFLE)
French summer and winter courses (Cours de vacances)
Science-Society Interface
Associated institutions
Kurt Bösch Institute (IUKB)
International Institute for Management Development (IMD)
Jean Monnet Foundation for Europe
Swiss Institute of Comparative Law
Centre du droit de l'entreprise (CEDIDAC)
Fondation Edouard Fleuret (FEF)
Swiss Centre of Expertise in the Social Sciences
Swiss Cancer Centre
Swiss Institute for Experimental Cancer Research (ISREC)
Ludwig Cancer Research
WHO Immunology Research and Training Centre
Swiss Institute of Bioinformatics (SIB)
Swiss Vaccine Research Institute
Center for Biomedical Imaging (CIBM)
Centre for Advanced Modelling Science (CADMOS)
Institut universitaire romand de santé au travail (IST)
École romande de santé publique (ERSP)
University Centre of Legal Medicine (CURML)

Swiss Laboratory for Doping Analyses

Biopôle
Jules Gonin Eye Hospital
International Academy of Sport Science and Technology (AISTS)
Swiss School of Archaeology in Greece
Institut romand des sciences bibliques (IRSB)
Centre de recherches sur les lettres romandes (CRLR)
Institut Benjamin Constant (IBC)
Rankings
In 2016, the Master of Finance in the Faculty of Business Studies (HEC) ranked 21st in the Financial Times ranking.
In 2016 and for the 4th consecutive year, his Master in Accounting, Control and Finance replaces the 1st place in the Eduniversal ranking.
In the Shanghai ranking, the HEC faculty also ranks in 2015 in the 1st position at the Swiss level and in the 6th position at the European level for the quality of its scientific publications. She has also received AMBA and EQUIS accreditations for the quality of her programs, research and teaching.
Sources : Wikipedia, www.unil.ch