United States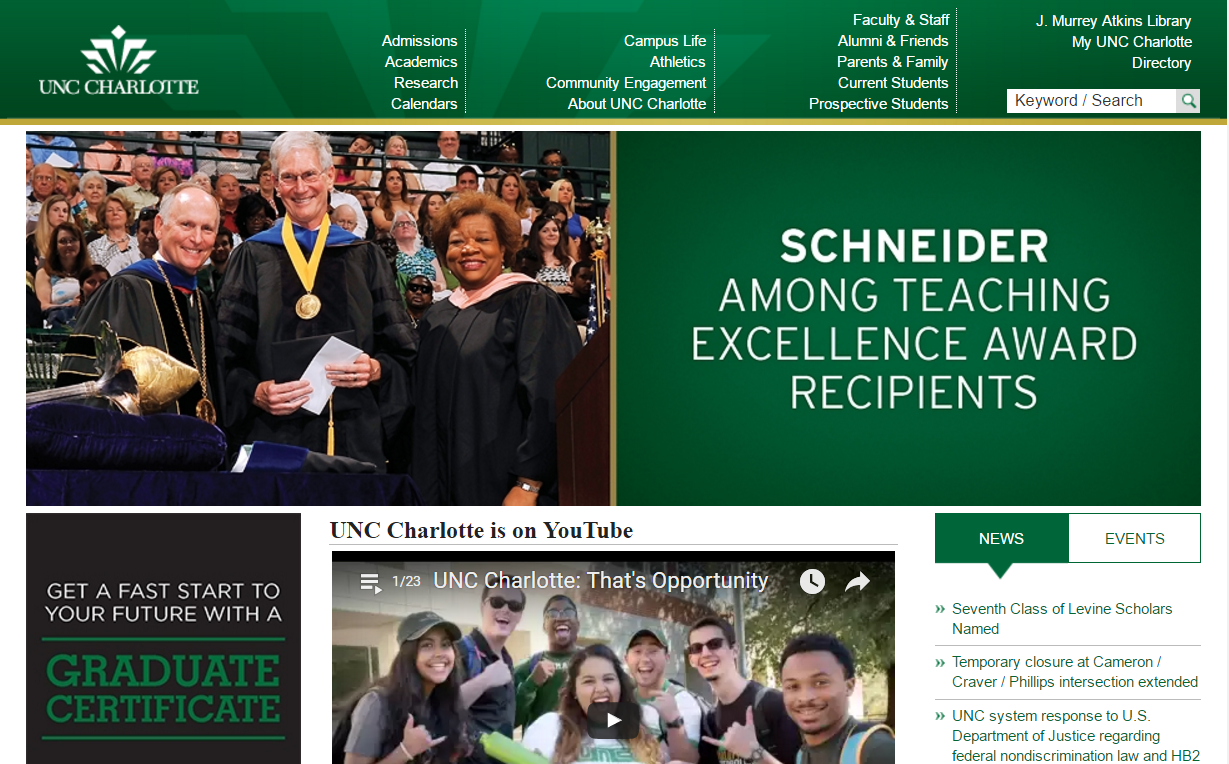 Region : North Carolina
City : Charlotte
Web site : www.uncc.edu
The University of North Carolina at Charlotte, also known as UNC Charlotte, UNCC, or Charlotte, is a public research university located in Charlotte, North Carolina, United States. UNC Charlotte offers 21 doctoral, 64 master's, and 90 bachelor's degree programs through nine colleges: the College of Arts + Architecture, the College of Liberal Arts & Sciences, the Belk College of Business, the College of Computing and Informatics, the Cato College of Education, the William States Lee College of Engineering, the College of Health and Human Services, the Honors College, and the University College.
UNC Charlotte has three campuses: Charlotte Research Institute Campus, Center City Campus, and the main campus, located in University City. The main campus sits on 1,000 wooded acres with approximately 85 buildings about 8 miles (13 km) from Uptown Charlotte.
The university is the largest institution of higher education in the Charlotte region, which is the second largest banking center in the United States.
Academics
UNC Charlotte is classified as a doctoral research university by the Carnegie Foundation for the Advancement of Teaching. UNC Charlotte was ranked the 38th top college in the United States by the Social Mobility Index college rankings. The 2013 edition of the U.S. News & World Report Best Colleges ranked the university's undergraduate program 199th overall among national universities Forbes also ranked the university among its annual rankings of overall higher education programs, and within its research universities category. In 2015, American City Business Journals evaluated and ranked the top 484 public colleges and universities in the United States based on selectivity, advancement, prestige, costs, diversity, and community. In the publication, UNC Charlotte was ranked at #137 landing in the top 30% of public universities.
Colleges and programs
The university offers 85 baccalaureate (bachelor's degree) programs, 63 master's degree programs, and 21 doctoral programs. Fifteen degree and certificate programs are offered via distance education, from 25% to 100% online.
The university is divided into nine colleges:
College of Liberal Arts & Sciences - academic disciplines including the humanities, social sciences, natural sciences, and mathematics
College of Arts + Architecture - fine and performing arts (art, theater, dance, and music), as well as the School of Architecture, which is housed within the college
Cato College of Education - the school of education
College of Health and Human Services - social work and athletic training; also contains the School of Nursing and programs like public health and health administration.
William States Lee College of Engineering - engineering college with undergraduate and graduate programs in the following: civil and environmental engineering, mechanical engineering and engineering science, electrical and computer engineering, systems engineering and engineering management, construction management, and engineering technology
College of Computing and Informatics - computer science, computer programming, health informatics, and bioinformatics
Belk College of Business - the business school, which offers undergraduate, graduate and executive education in five major departments: Accounting, Business Information Systems & Operations Management (BISOM), Economics, Finance, Management, and Marketing. The college offers three undergraduate degrees (Bachelor of Science in Accounting, Bachelor of Science in Business Administration, and Bachelor of Science in Economics); five master's programs (Master of Business Administration, Master of Accountancy, Master of Science in Economics, Master of Science in Real Estate, and Master of Science in Mathematical Finance as well as a Professional Science Master's (PSM) program in Data Science and Business Analytics); a Doctorate in Business Administration and a Ph.D. in Business Administration concentrating in finance. The college was established in 1965, became the College of Business Administration in 1971, and was renamed the Belk College of Business in honor of the Belk family in 1990.
University College - general education college for undergraduates who have not yet declared a major
Honors College - an honors college that seeks to provide students with a liberal arts college experience
Graduate School - graduate school; works with the undergraduate colleges to organize the master's and doctoral degree programs
Scholarships
In 2009, UNC Charlotte received the largest single donation from a private source, when The Leon Levine Family Foundation donated $9.3 million to the university to form the Levine Scholars program. The scholarship program, named for Leon and Sandra Levine, provides a four-year scholarship to UNC Charlotte. The scholarship includes tuition, fees, books, room, four summer experiences, and an $8,000 grant for community service initiatives.
In addition to the Levine Scholars, the university offers eleven other merit-based scholarship programs.
Sources : Wikipedia, www.uncc.edu