Canada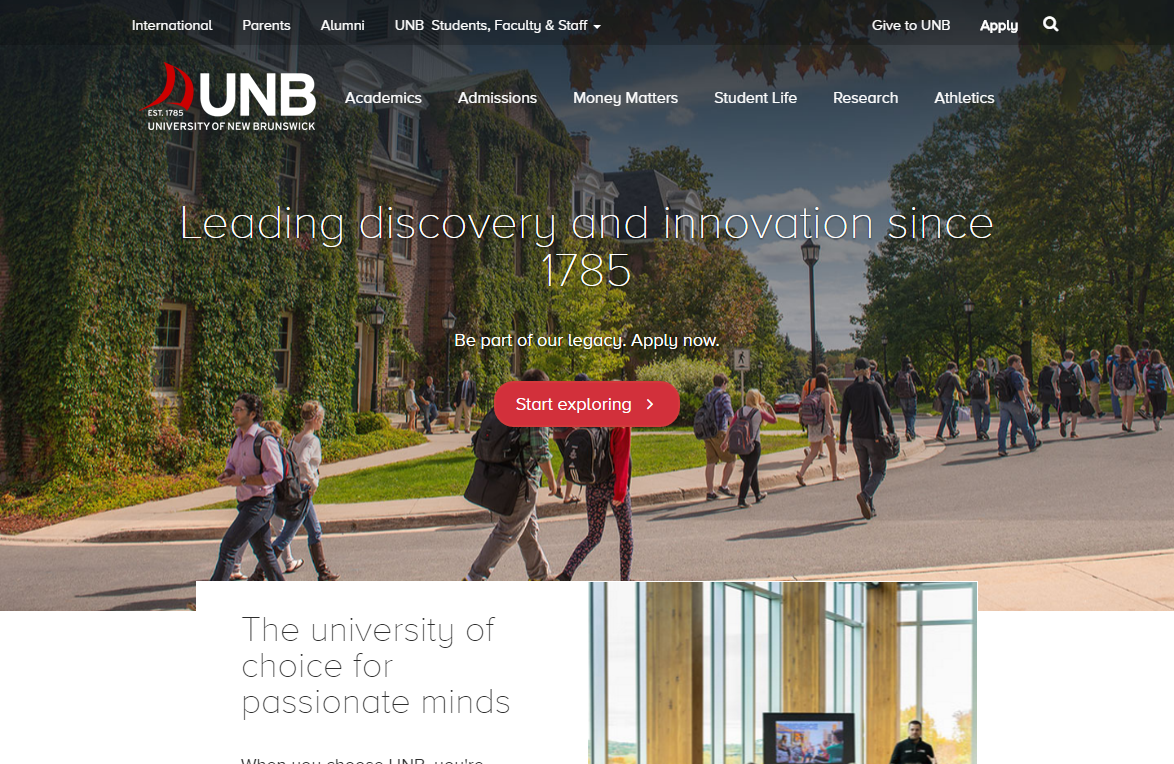 Region : New Brunswick
City : Fredericton
Web site : www.unb.ca
The University of New Brunswick (UNB) is a public university with campuses located in Fredericton and Saint John, New Brunswick. It is the oldest English-language university in Canada, and among the oldest public universities in North America. UNB was founded by a group of seven Loyalists who left the United States after the American Revolution.
UNB has two main campuses: the original campus, founded in 1785 in Fredericton, and a smaller campus which opened in Saint John in 1964. In addition, there are two small satellite health sciences campuses located in Moncton and Bathurst, New Brunswick, and two offices in the Caribbean and in Beijing. UNB offers over 75 degrees in fourteen faculties at the undergraduate and graduate levels with a total student enrollment of approximately 11,400 between the two principal campuses. In the fall of 2010, UNB partnered with Dalhousie University and the government of New Brunswick to open the first English-language medical school in the province at the Saint John campus. UNB was named the most entrepreneurial university in Canada at the 2014 Startup Canada Awards.
Programs
There are over 75 undergraduate programs to choose from, the school of Graduate Studies offers course and research-based programs in over 30 fields and UNB has a 16:1 student-to-faculty ratio.
Program Highlights
UNB Saint John is home to one of only a few campuses in Canada designed to offer a complete marine biology program, from Bachelor of Science to PhD. Its ideal location on the Saint John-Kennebecasis River estuarine complex means students can easily get hands-on experience.
UNB's faculty of arts in Fredericton is home to a nationally renowned creative writing program, producing award-winning authors and poets every year.
Eastern Canada's only bachelor of arts program with courses in game design in the department of culture and language studies on UNB's Fredericton campus.
UNB business students manage $8 million of real assets in a Student Investment Fund program that is one-of-a-kind in Canada. As of July 2015, the fund is worth nearly $8 million, making it the largest undergraduate-run fund of its kind in the country.
The Bachelor of Applied Management (BAM) degree through the faculty of business on UNB's Saint John campus offers a unique program for college graduates to turn their two-year diploma – in any field – into a university degree.
UNB is home to Canada's only computer science faculty with a dedicated entrepreneurship and innovation centre.
UNB also has the only software engineering program in Atlantic Canada, offered through the faculty of computer science and faculty of engineering in Fredericton.
The faculty of business on both UNB's Fredericton and Saint John campuses are home to accredited co-op programs. The Activator program in UNB's faculty of business administration (Fredericton) was created in 2007 to help business students launch startups, and since the program began, students have live-launched at least one New Brunswick business every year.
Students majoring in political science on UNB's Saint John campus work on local community issues and present policy recommendations to local municipal council, including a revitalization plan for a stretch of land in Saint John's south end.
Students majoring in English on UNB's Saint John campus can register for theatre production courses held in partnership with the Saint John Theatre Company.
UNB is home to "Canada's Great Small Law School," one of the strongest practice-oriented juris doctor (JD) programs in the country and a student to faculty ratio of 14:1.
UNB's nursing faculties in Fredericton and Saint John provide hands-on training for students, with both offering clinical practice in first year.
The Bachelor of Recreation and Sports Studies program is the only degree of its kind in Canada that combines recreation and sport in one degree.
The Centre for Criminal Justice Studies (CCJS) on the Saint John campus gives students the chance to engage with issues surrounding criminal justice.
Research and academics
UNB is the seat of 11 Canada Research Chairs and is home to more than 60 research centres and institutes. It conducts about 75 per cent of all university research in the province. UNB's annual research spending (2013–14) generated $32.2 million in added provincial income for the New Brunswick economy. Between 2004 and 2009, the university's research revenue increased by 77 per cent: the highest increase among Canadian comprehensive universities.
UNB has developed technology used by Google, is a research partner with the NASA Jet Propulsion Laboratory, is a global leader in powered prosthetic research and developing MRI technology, and is home to one of the most cutting-edge motion analysis labs in North America as well as the world's first research centre in dermoskeletics.
Reputation
In 2014, UNB was awarded the most entrepreneurial university in Canada by Startup Canada. The university has also supported in launching 23 new startup companies as of 2015.
In 2013, Maclean's magazine ranked UNB 4th nationally in its evaluation of the top fifteen comprehensive universities in Canada. For several years running, UNB's libraries have been ranked in the top spot nationally in terms of the percentage of the overall budget devoted to libraries and in terms of holdings per student.
In 2012, UNB's law school was ranked 2nd nationally in elite firm hiring by Maclean's. According to Canadian Lawyer Magazine, the law school ranks among the top five in Canada.
In 2008, the National Post and the Ottawa Citizen recognized UNB as being among the top three comprehensive research universities in Canada for the highest percentage growth of research income across a five-year period.
Poets' Corner
Because so many of UNB's students, alumni, and professors have produced celebrated poetry, the city of Fredericton has earned the nickname "Poets' Corner." Two of Canada's four Confederation Poets – Sir Charles G.D. Roberts and Bliss Carman – were educated at UNB, as was Francis Joseph Sherman, along with a number of notable 20th- and 21st-century Canadian writers. In 1947, the Historic Sites and Monuments Board of Canada unveiled a "Poet's Corner" monument in honour of Carman, Roberts, and Sherman.
Institute of Biomedical Engineering
The Institute of Biomedical Engineering (IBME) on the Fredericton campus is one of the leading research institutes in biomedical engineering in Canada. It was founded in 1965 as the Bio-Engineering Institute, making it one of the oldest research institutes to be solely dedicated to the field of biomedical engineering. The institute is also the region's prosthetic fitting centre where amputees are fitted with state-of-the-art intelligent artificial limbs. The institute also carries out research in the field of myoelectric signal processing, biomedical instrumentation and human motion analysis. The IBME also developed the UNB Test of Prosthetic Function which is used by researchers all over the world. Although the institute does not offer degrees in biomedical engineering, students at UNB usually enroll in one of the other faculties of engineering such as electrical or mechanical and pursue their research in biomedical engineering at the IBME.
Canadian Rivers Institute
Main article: Canadian Rivers Institute
The Canadian Rivers Institute was founded in 2000 and is a leading site of river sciences research. The mandate of the CRI is to conduct both multi-disciplinary basic and applied research focusing on rivers from their headwaters to their estuaries, to promote the conservation, protection and sustainable use of water, and to educate professionals, graduate students and the public on water sciences. Members of the CRI conduct research on regional, national and international issues related to rivers and their land-water linkages.
With researchers from both UNB campuses, the CRI develops the aquatic science needed to understand, protect and sustain water resources. Since 2013, the CRI and its partners have been working with NB Power to research the potential environmental impacts of the future options being considered for the Mactaquac Generating Station. The Mactaquac Dam on the Saint John River will reach the end of its lifespan by 2030, and CRI has been evaluating key environmental challenges such as river health, fish passage and flow management. In 2015, CRI was given an additional $2.8 million from the Natural Sciences and Engineering Research Council (NSERC) to conduct an aquatic ecosystem study on the Saint John River.
Mi'kmaq-Maliseet Institute
UNB created its BEd program for First Nations students in 1977 in an effort to help First Nations communities take control of their own schools. In 1981, the Mi'kmaq-Maliseet Institute opened its doors with an expanded mandate to train professionals and improve First Nations access to First Nations education. The Institute provides a variety of services, including research, curriculum development, language education, policy development, children's literacy, and more. In addition, the Institute funds the Mi'kmaq-Maliseet Resource Collection, which contains materials that are immensely valuable to knowledge of First Nations culture, history, and perspective in the region.
Scholarships
UNB awards over five million dollars in scholarships each year. The most prestigious of these are the Blake-Kirkpatrick, Beaverbrook, and President's scholarships. With $7.2 million available in undergraduate scholarships, one in two students entering UNB from high school received a scholarship as of 2015. UNB has a scholarship guarantee in which any admitted student with an average of 80% or higher will receive a guaranteed amount of five hundred dollars.
As a member of the Loran Scholars university consortium, UNB offers a matching tuition waiver as part of a $100,000 undergraduate scholarship to recognize incoming students who demonstrate exemplary character, service and leadership. Five Loran Scholars have studied at UNB over the years. Additionally, it is part of the Schulich Leader Scholarships program, awarding an $80,000 STEM scholarship to an incoming engineering student and a $60,000 scholarship to a science, technology, or mathematics student each year.
Sources : Wikipedia, www.unb.ca