United States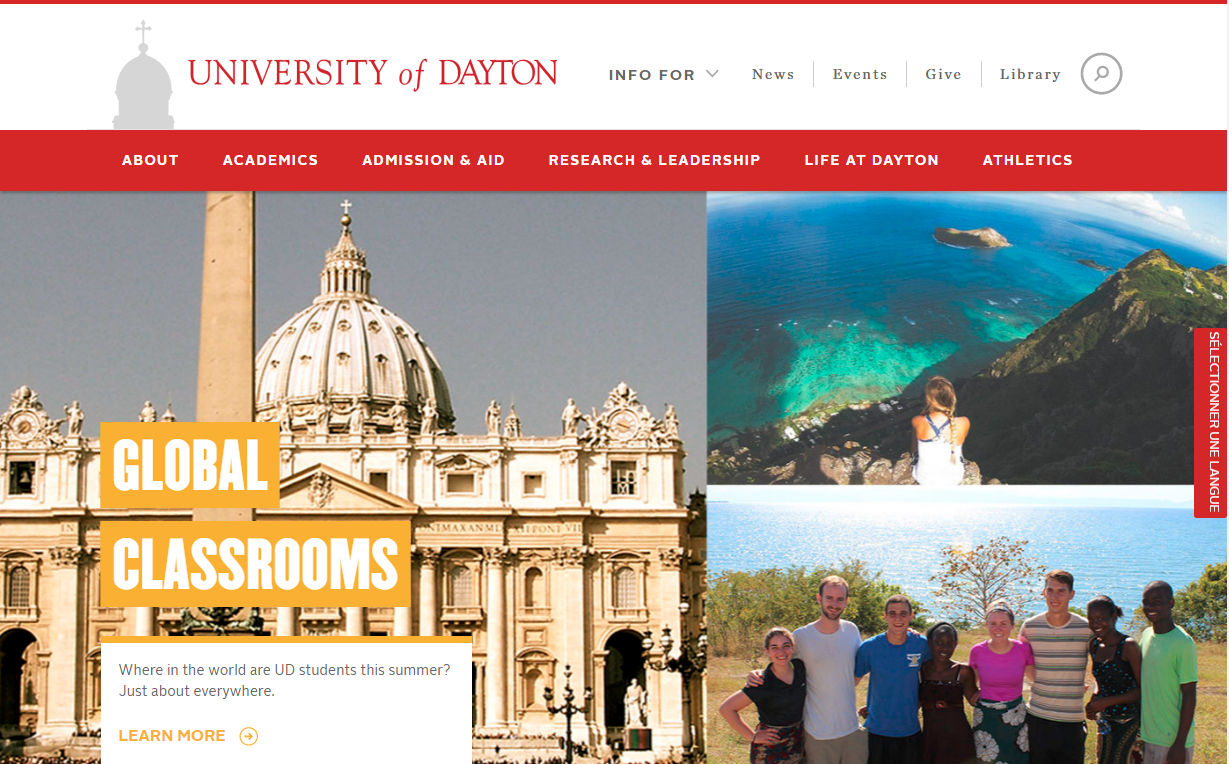 Region : Ohio
City : Dayton
Web site : www.udayton.edu
The University of Dayton (UD) is an American private Roman Catholic national research university in Ohio's sixth-largest city, Dayton. Founded in 1850 by the Society of Mary (Marianists), it is one of three Marianist universities in the nation and the largest private university in Ohio. The university's campus is located in the city's southern portion and spans 388 acres on both sides of the Great Miami River. The campus is noted for the Immaculate Conception Chapel and the University of Dayton Arena. The University also operates, in China's Suzhou Industrial Park, the University of Dayton China Institute.
The University has about 8,000 undergraduate and 2,200 post-graduate students from a variety of religious, ethnic and geographic backgrounds, drawn from across the United States and more than 40 countries. It offers more than 80 academic programs in arts and sciences, business administration, education and health sciences, engineering, law and, in 1988, was first in the country to offer an undergraduate degree program in human rights.
The University's notable alumni include: humorist Erma Bombeck; engineer David Bradley (Control-Alt-Delete keyboard command inventor); architect Bruce Graham; Super Bowl-winning coaches Jon Gruden and Chuck Noll; first female Premier of New South Wales Kristina Keneally; sportscaster Dan Patrick; and the 1987 Nobel Prize winner in Chemistry, Charles J. Pedersen.
John Terzano, an associate professor at the University of Dayton School of Law, is a co-founder of the Vietnam Veterans of America Foundation, which was awarded the Nobel Peace Prize in 1997 for their efforts to ban landmines as weapons of war.
Academics
For the 2016-17 academic year, the University has 7,896 full- and part-time undergraduates and 2,932 graduate and law students. The University of Dayton offers more than 80-degree programs in four schools and a college — School of Law, School of Engineering, School of Business Administration, School of Education and Health Sciences, and the College of Arts and Sciences.
The University of Dayton is tied for 111th on the 2017 U.S. News & World Report's list of "National Universities."
Schools, colleges, departments, and programs
College of Arts and Sciences
The College of Arts and Sciences is the largest of the five academic units with more than 50 undergraduate and graduate degree programs in 18 departments. The University established one of the first undergraduate human rights studies program in the nation in 1998. Specialized institutes and centers provide in-depth opportunities for study, research and service in three areas. The Fitz Center for Leadership in Community emphasizes community building and outreach to urban neighborhoods and larger communities. The Institute for Pastoral Initiatives focuses on trends and developments in pastoral ministries for lay and vowed Catholics and offers online adult religious education to parishes around the world through the Virtual Learning Community for Faith Formation. The Center for Tissue Regeneration and Engineering at Dayton (TREND) conducts research in the areas of tissue regeneration and bioengineering with special interests in eye, bone and ear regeneration and engineering.
School of Education and Health Sciences
The School of Education and Health Sciences offers undergraduate and graduate education programs, online and in the classroom, ranging from early childhood to higher education. The school also is home to the Center for Catholic Education. The Lalanne Program is within the center and is a post-graduate teacher service program, specializing in supporting beginning Catholic school educators by combining service and teaching. Lalanne teachers make a two-year commitment to teach in an under-resourced Catholic school, live together in a faith-based community, and pursue professional and spiritual/personal development.
School of Engineering
Students in the School of Engineering have the opportunity to perform research in one of the school's 10 centers. The centers focus on topics that include laser radar, sensors, audits, fuels, and lean.
School of Business Administration
Entrepreneur magazine and The Princeton Review ranked Dayton's undergraduate program in entrepreneurship 15th in the nation. It has been in the top 20 10 straight years. Flyer Enterprises manages a variety of on-campus businesses and is the sixth-largest student-run business in the nation with more than 190 student employees in nine divisions and annual revenues of more than $1.2 million. Several centers within the School of Business Administration offer specific focus on business topics and emphasize hands-on learning. The L. William Crotty Center for Entrepreneurial Leadership focuses on business development and provides funding for sophomores to start up and run real businesses. In the Davis Center for Portfolio Management, students manage nearly $21.6 million of the university's endowment. Other centers include the Hanley Trading Center the Center for Professional Selling, Center for Project Excellence, and Center for the Integration of Faith and Work. The Business Research Group conducts research for business and government partners.
School of Law
The School of Law is one of nine in Ohio. In addition to a traditional Juris Doctor degree earned in three years, the university offers an accelerated two-year option. It was among the first in the nation to create a two-year option.
Intercultural and Education Abroad
The University of Dayton has nearly 50 programs for credit or service-learning for a summer, semester or full year abroad through the Center for International Programs. Students can participate in for-credit programs at a partner institution or through a program taught by UD faculty around the world. International programs are offered in Argentina, Austria, China, Czech Republic, Finland, France, Germany, Honduras, Hungary, Ireland, Italy, Korea, Mexico, Morocco, Netherlands, New Zealand, Nicaragua, Spain, and the United Kingdom.
The Center for Social Concern offers intercultural service-learning opportunities during breaks in the academic calendar. International programs are in Cameroon, Zambia, India, Ecuador, El Salvador, Panama, Belize, Mexico, and Guatemala. Students can also participate in domestic programs to experience cultural diversity within the United States. The new University of Dayton China Institute in Suzhou began offering classes in summer 2013.
The numbers of international students continues to increase. After setting records for first-year international enrollment the past few years, in 2012 approximately one in 10 students was from another country.
A growing number of students, notably women, from predominantly Muslim countries are enrolling at the University, part of a trend of overseas Muslim women choosing Catholic colleges and universities. A New York Times story in 2012 noted the trend and featured the University of Dayton.
Research
Main article: University of Dayton Research Institute
The University of Dayton Research Institute has performed more than $2 billion in total sponsored research since its inception. The University performed a record-high $117.6 million in research in fiscal year 2016, which ranks ninth among private comprehensive research universities without medical schools. Most of the research is done in engineering, either by 400 full-time researchers at the University of Dayton Research Institute (UDRI) or engineering faculty. More than 250 undergraduate and graduate students work alongside researchers.
Materials engineering accounts for most of the research within engineering, followed by electrical engineering. The University's engineering research played a role in GE Aviation's decision to locate the new Electrical Power Integrated Systems Research and Development Center (EPISCENTER) on the University of Dayton campus.The center opened in early 2014.
Next to engineering, life, and biological sciences account for the second-greatest research volume at the University of Dayton. Education leads non-science and engineering research.
The Research Institute has seven divisions — Aerospace Mechanics, Energy And Environmental Engineering, Energy Technologies And Materials, Multi-Scale Composites And Polymers, Nonstructural Materials, Structural Integrity, and Sensor Systems.
There are 10 centers in School of Engineering — Advanced Integrated Manufacturing Center (AIM), Building Energy Center, Center for Competitive Change, Center of Excellence for Strategic Energy and Environmental Informatics, Center of Excellence in Thin-Film Research and Surface Engineering (CETRASE), Industrial Assessment Center, Innovation Center, Ladar and Optical Communications Institute (LOCI), Nanoscale Engineering Science and Technology Laboratory (NEST), Vision Lab and Von Ohain Fuels and Combustion Center.
Key Discoveries
More than 150 patents have been assigned to the University of Dayton, including one for hotbags that Domino's Pizza uses to keep delivery pizzas hot. Bob Kauffman, a UDRI distinguished research chemist and Fluid Analysis group leader, was an inventor of the Power Activated Technology for Conductor Healing (PATCH), a self-healing wire for which R&D Magazine gave a Top 100 Award. Kauffman also received Top 100 awards from R&D Magazine for the Remaining Useful Life Evaluation Routine (RULER), a "smart" dipstick used to measure the quality of oils in use in aircraft, automobiles, and cooking vats, and the Status and Motion Activated Radiofrequency Tag (SMART) Sensor, which is a modified, passive radio frequency identification (RFID) tag that becomes readable only after a monitored problem has occurred. The Research Institute also developed and operates the world's only test facility to certify sulkies that race in U.S. Trotting Association sanctioned events and was involved in creating an Engineered Material Arresting System (EMAS) installed at airports around the country to stop runaway aircraft.
Researchers in the Center for Tissue Regeneration & Engineering at Dayton (TREND) have made many recent discoveries involving tissue regeneration. They mapped out the process at the genetic level newts use to regenerate lenses, limbs, and other tissue. The research, published in Genome Biology, identifies the protein families expressed during tissue regeneration in the common North American newt, laying the groundwork for research into what particular sets of genes are used for this purpose. This is the first comprehensive map of all RNA molecules expressed in regeneration. In research published in Nature Communications, Panagiotis Tsonis concluded repeated regeneration, even at old age, does not alter the capacity of newts to regenerate tissue. His findings overturned long-accepted theories proposed by regeneration scientists that age and repeated amputation negatively affect regeneration. Tsonis also linked natural regeneration in the newt with discoveries about stem cells in humans, attracting national attention for his pursuit of the key to one of nature's mysteries: regrowing damaged tissue.
Sources : Wikipedia, www.udayton.edu