Canada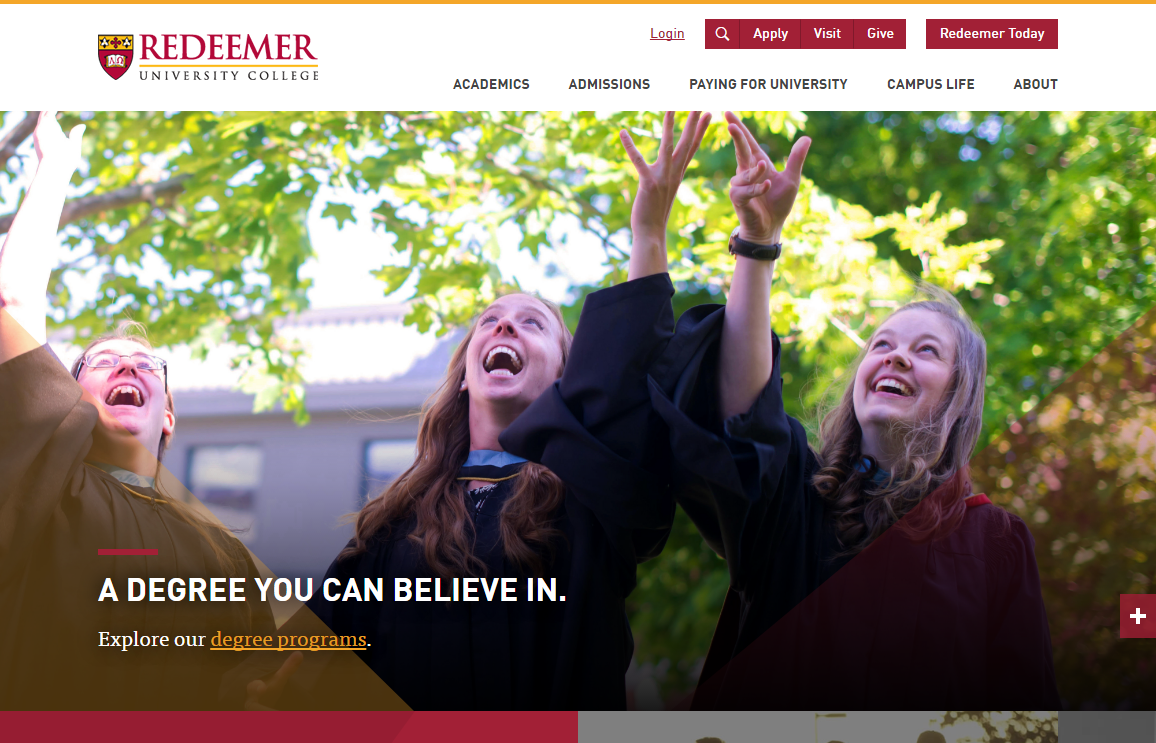 Region : Ontario
City : Ancaster
Web site : www.redeemer.ca
Redeemer University College is an undergraduate Christian liberal arts and science university located in Ancaster, Ontario, Canada. Founded in 1982, Redeemer stands in the Reformed Tradition and offers Bachelor of Arts, Bachelor of Education, and Bachelor of Science degrees.
Programs
Redeemer University College offers over 40 majors and minors.
Bachelor of Arts: Art (General, Studio Art, Art History), Business (Accounting, Entrepreneurship, Management, Marketing), English, Environmental Studies, French, Geography, History, Humanities, International Studies, Media and Communication Studies, Music, Philosophy, Physical Education, (Recreation), Political Science, Psychology, Religion & Theology (Mission & Ministry, Youth Ministry), Sociology, Social Work (Social Justice, Criminal Justice, Disability Studies), Theatre Arts (Performance)
Bachelor of Science: Biology, Chemistry, Environmental Studies, Health Sciences, Kinesiology, Mathematics, Physics
Bachelor of Education: Education
Student activities and traditions
Launch Olympics are held for first years during the first week of school in September, primarily on the first Saturday. There are teams of new students and a senior leader who play through games, activities and competitions and end with a mud pit tug-of-war.
Decade Dance is held on the night of the LAUNCH Olympics; students enjoy music and wear costumes from previous decades, as well as having dance contests.
Banquet is an end of the year party held at a banquet hall in Hamilton, generally in March. It is a way for students to dress up, unwind and enjoy being with friends. There is a sit-down dinner and a dance held afterward.
Church in the Box is a student run worship service held once a month on Sunday evenings, and includes music and drama as well as a speaker and a collection. This tradition began in the school's 'black box' but has grown over the years and is now held in the auditorium for students, staff and the community.
Hot Spot is a smaller, informal service, intended for students. Held in the Rec Center once a month on Thursday evening, it includes a musician and a singer, and a speaker or speakers, who are Redeemer students.
Chapel is a worship service held in the auditorium on Wednesday mornings for students and faculty which includes student participation in music and readings, while having an in-school speaker, either a student or the school chaplain, Dr. Syd Hielema.
Battle of the Bands is a contest where Redeemer bands perform to showcase their skills, to learn from other musicians, and to be crowned the top Redeemer band.
Coffeehouse. Each month, Student Senate hosts a student gathering in the commons where songs, skits, poetry and other talents are performed.
Social Justice Conference. Each year, students and members of the community gather for a Saturday to learn and discuss social justice issues. Students take a main role in organizing this event.
Sibling Weekend. Students invite brothers and sisters to visit and experience a weekend at Redeemer.
Research and faculty
The campus houses two research institutes, the Pascal Centre for Advanced Studies in Faith and Science and The Dooyeweerd Centre for Christian Philosophy.Redeemer has 50 full-time and 40 part-time faculty. Notable faculty members include James R Payton Jr. in History, David Koyzis in Political Science, Christiaan Teeuwsen in Music, Craig Bartholomew in Philosophy and Albert M. Wolters in Theology.
Partnerships
The college holds membership in the Association of Universities and Colleges of Canada, the Council for Christian Colleges and Universities, the International Association for Promotion of Christian Higher Education, and the Association of Reformed Institutions of Higher Education in North America.
Sources : Wikipedia, www.redeemer.ca