Canada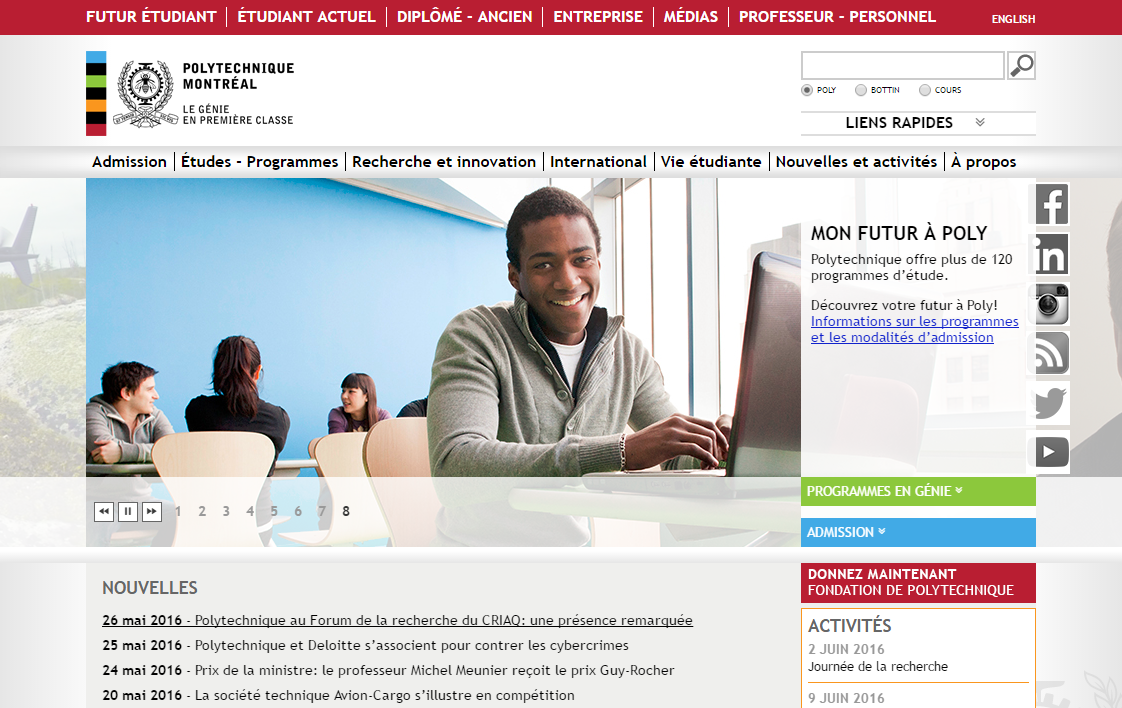 Region : Quebec
City : Montreal
Web site : www.polymtl.ca
The Polytechnic School of Montreal (Polytechnique Montreal) is a postgraduate institution of engineering, affiliated to the University of Montreal, Montreal (Quebec) and founded In 1873. In addition to its bachelor's degree programs, Polytechnique Montreal offers postgraduate training and is one of the largest Canadian-based research institutions in Canada.
Organization
Polytechnique Montreal provides teaching in several engineering specialties and completes a quarter of university research in these fields in Quebec.
Departments and institutions
The Montreal Polytechnic School consists of seven departments and two institutes:
Department of Chemical Engineering
General Electrical Engineering
Department of Computer Science and Software Engineering
Department of Mechanical Engineering
Department of Physics
Department of Mathematics and Industrial Engineering
Department of Civil, Geological and Mining
Institute of Biomedical Engineering
Institute of Nuclear Engineering
Training
The mission of the Montreal Polytechnic is to:
provide quality university education, In engineering; All cycles with emphasis on human values;
carry out relevant and high-level research, The basis of training; And to the doctorate and taking into account the needs of the industrial and societal environment.
have a concrete intellectual and social influence; By interactions with the external environment as much in the country as; The 4 .
TRAINING
12 undergraduate programs at the 1   cycle and 15 specializations at the graduate (master and doctorate)
Intensive training, dinner-conferences, certificates or in-company training and international exchange programs are offered by the Crossroads of Improvement
RESEARCH
$ 80 million annual budget
87 research infrastructure projects
39 research chairs and more than 60 research units
40 research laboratories
3 areas of sectoral excellence

Aerospace and transportation
Multimedia, IT and Telecommunications
Science and Life Sciences

3 areas of topical excellence

Advanced Materials and Nanotechnologies
System science and systems
Energy, Environment and Sustainable Development

151 valorization technologies, 64 patents detained, 35 invention declarations / year
ENTREPRENEURSHIP
The HEC-Poly-UdM Entrepreneurship Center encourages university entrepreneurs by offering Canada's largest funding in addition to other services such as business start-up assistance or scholarships totaling $ 100,000.
32 founded companies, leading to the creation of 440 direct jobs and 120 indirect jobs.
84 student entrepreneurs, with annual sales of $ 36 million.
Sources : Wikipedia, www.polymtl.ca