United States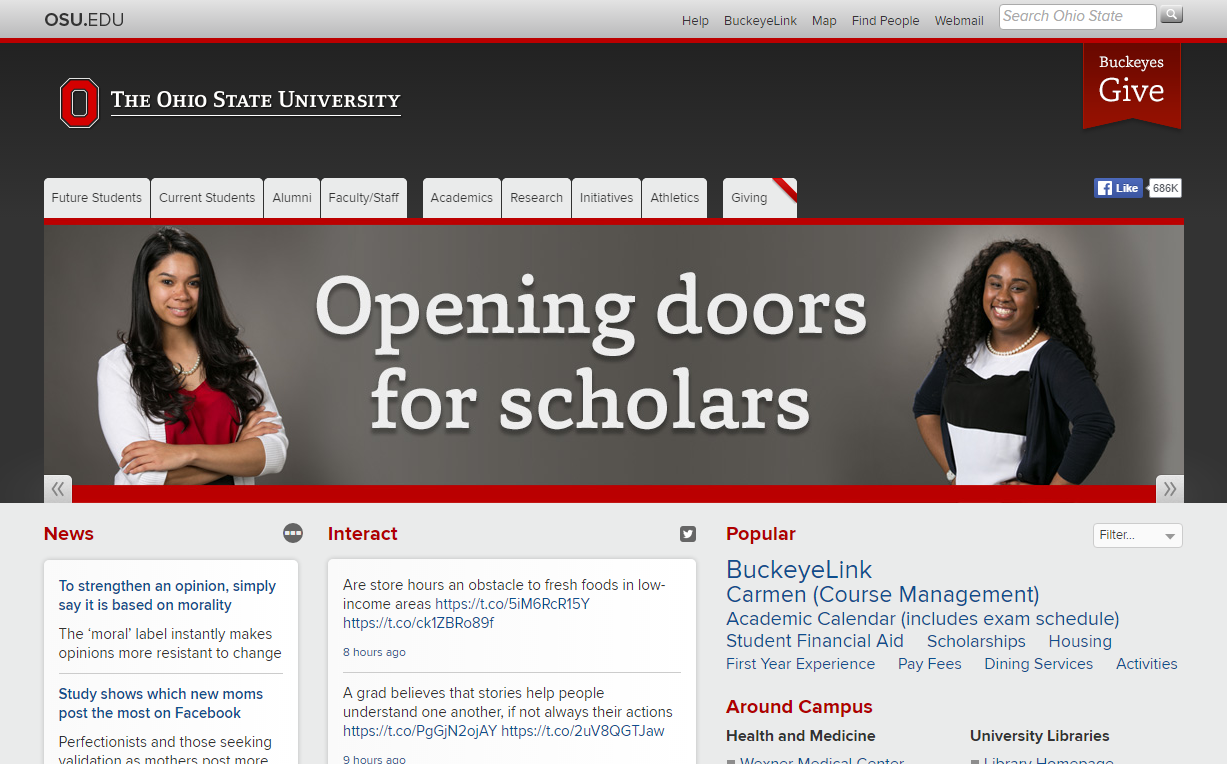 Region : Ohio
City : Columbus
Web site : www.osu.edu
The Ohio State University, commonly referred to as Ohio State or OSU, is a public university in Columbus, Ohio. Founded in 1870 as a land-grant university and ninth university in Ohio with the Morrill Act of 1862, the university was originally known as the Ohio Agricultural and Mechanical College (Mech). The college began with a focus on training students in various agricultural and mechanical disciplines but was developed into a comprehensive university under the direction of Governor Rutherford B. Hayes, and in 1878 the Ohio General Assembly passed a law changing the name to "The Ohio State University". It has since grown into the third-largest university campus in the United States. Along with its main campus in Columbus, Ohio State also operates a regional campus system with regional campuses in Lima, Mansfield, Marion, Newark, and Wooster.
The university has an extensive student life program, with over 1,000 student organizations; intercollegiate, club and recreational sports programs; student media organizations and publications, fraternities and sororities; and three student governments. Ohio State athletic teams compete in Division I (Football Bowl Subdivision for football) of the NCAA and are known as the Ohio State Buckeyes. Athletes from Ohio State have won 100 Olympic medals (44 gold, 35 silver, and 21 bronze). The university is a member of the Big Ten Conference for the majority of sports. The Ohio State men's ice hockey program competes in the Big Ten Conference, while its women's hockey program competes in the Western Collegiate Hockey Association. In addition, the OSU men's volleyball team is a member of the Midwestern Intercollegiate Volleyball Association (MIVA). OSU is one of only 14 universities that plays Division I FBS football and Division I ice hockey.
As of August 2015, the university had awarded a total of 714,512 degrees. Alumni and former students have gone on to prominent careers in government, business, science, medicine, education, sports, and entertainment.
Academics Rankings and recognition
In 1916, Ohio State became the first university in Ohio to be extended membership into the Association of American Universities, and remains the only public university in Ohio among the organization's 60 members. The Public Ivies: America's Flagship Public Universities (2000) by Howard and Matthew Greene listed Ohio State as one of a select number of public universities offering the highest educational quality.
In its 2016 edition, U.S. News & World Report ranked Ohio State as tied for the 16th-best public university in the United States, and tied for 52nd among all national universities.
The Academic Ranking of World Universities placed Ohio State 42nd nationally and 79th globally for 2016. In its 2015-16 rankings, Times Higher Education World University Rankings ranked it tied for 90th in the world. In 2016, QS World University Rankings ranked the university 88th in the world.
The Lombardi Program on Measuring University Performance at Arizona State University detailed analysis and rankings of American universities in 2007 placed Ohio State as the 24th ranked university in America, the 10th ranked public university in the country and the top overall university in Ohio. Of their nine ranking criteria, Ohio State ranked in the top-25 in four categories and between 26–50 in an additional four categories. The Washington Monthly college rankings, which seek to evaluate colleges' contributions to American society based on factors of social mobility, research, and service to the country by their graduates, in 2016 placed Ohio State 69th in the nation.
Ohio State is also the only public university in Ohio to which the Carnegie Foundation for the Advancement of Teaching has given both its highest overall classification of R1: Doctoral Universities – Highest Research Activity and highest undergraduate admissions classification of more selective.
Bloomberg Businessweek ranked the undergraduate business program at Ohio State's Fisher College of Business as the 14th best in the nation in its 2016 rankings.U.S. News & World Report ranks the MBA program tied for 30th in America. Fisher's Executive MBA program was ranked 3rd nationally for return on investment by The Wall Street Journal in 2008 citing a 170 percent return on an average of $66,900 invested in tuition and expenses during the 18-month program.
Scott Laboratory, housing the Mechanical and Aerospace Engineering department.
The Ohio State law school is ranked by U.S. News & World Report tied for 34th overall in America for 2016, with the nursing school tied for 22nd, public affairs tied for 25th, and the medical school ranked tied for 31st for research and tied for 40th for primary care; the graduate engineering program was ranked 32nd best and the College of Education ranked 15th in America. Nineteen Ohio State graduate programs or specialties were rated among the nation's top ten for 2016.
The Ohio State political science department is ranked 15th in the country by U.S. News & World Report for 2016, with the international politics section 8th, American politics 10th, and political methodology 10th. Professor Alexander Wendt was ranked the most influential scholar of international relations in the world in a 2011 survey of American professors of international relations. The history department was recently ranked 18th in the nation (6th among public universities) by the National Research Council.
Ohio State is one of a select few American universities to offer multiple area studies programs under "Comprehensive National Resource Center" (often called "Title VI") funding from the U.S. Department of Education. The most notable of these is the Center for Slavic and East European Studies founded in 1965 by Professor Leon Twarog. Subsequently, Ohio State's Middle Eastern Studies Center and East Asian Studies Center also achieved Comprehensive National Resource Center status. The university is also home to the interdisciplinary Mershon Center for International Security Studies, which was founded in 1952 through a bequest of 7 million dollars (54.3 million in 2006 value) from alumnus Colonel Ralph D. Mershon. In 2003, it was decided by the United States Department of Homeland Security to base the National Academic Consortium for Homeland Security at The Mershon Center.
U.S. News & World Report ranked the graduate program in interior design 2nd in the nation for 2016. Overall, U.S. News & World Report ranked the graduate art program 18th, with the ceramics program at 4th. In its 2008 edition of "America's Best Architecture & Design Schools, the journal DesignIntelligence ranked the undergraduate Industrial Design program #3 nationwide, and the graduate program in Design #10 nationwide. The DFC conducted their research by polling 270 corporations regarding how design schools were preparing their students for the future of professional practice in design. OSU was in the top ten rankings of the corporate leaders' assessments in all regions (#4 in the south, #2 in the midwest, #7 in the east, and #4 in the west). The graduate program placed at #3 in the south and #2 in the east, resulting in 10th overall in the nation.
Research
In a 2007 report released by the National Science Foundation, Ohio State's research expenditures for 2006 were $652 million, placing it 7th among public universities and 11th overall, also ranking 3rd among all American universities for private industry sponsored research. Research expenditures at Ohio State were $720 million in 2007. Ohio State also announced in 2006, that it would be designating at least $110 million of its research efforts to what it termed "fundamental concerns" such as research towards a cure for cancer, renewable energy sources and sustainable drinking water supplies.
Research facilities include Aeronautical/Astronautical Research Laboratory, Byrd Polar Research Center, Center for Automotive Research (OSU CAR), Chadwick Arboretum, Biomedical Research Tower, Biological Sciences Building, Comprehensive Cancer Center, David Heart and Lung Research Institute, Electroscience Laboratory, Large Binocular Telescope (LBT, originally named the Columbus Project), Mershon Center for International Security Studies, Museum of Biological Diversity, National Center for the Middle Market, Stone Laboratory on Gibraltar Island, OH, Center for Urban and Regional Analysis and Ohio Agricultural Research and Development Center.
Big Ten Academic Alliance
Ohio State is a participant in the Big Ten Academic Alliance. The Big Ten Academic Alliance (BTAA) is the academic consortium of the universities in the Big Ten Conference. Engaging in $10 billion in research in 2014-2015, BTAA universities provide powerful insight into important issues in medicine, technology, agriculture, and communities. Students at participating schools are also allowed "in-house" borrowing privileges at other schools' libraries. The BTAA uses collective purchasing and licensing, and has saved member institutions $19 million to date. Course sharing, professional development programs, study abroad and international collaborations, and other initiatives are also part of the BTAA.
Sources : Wikipedia, www.osu.edu