Canada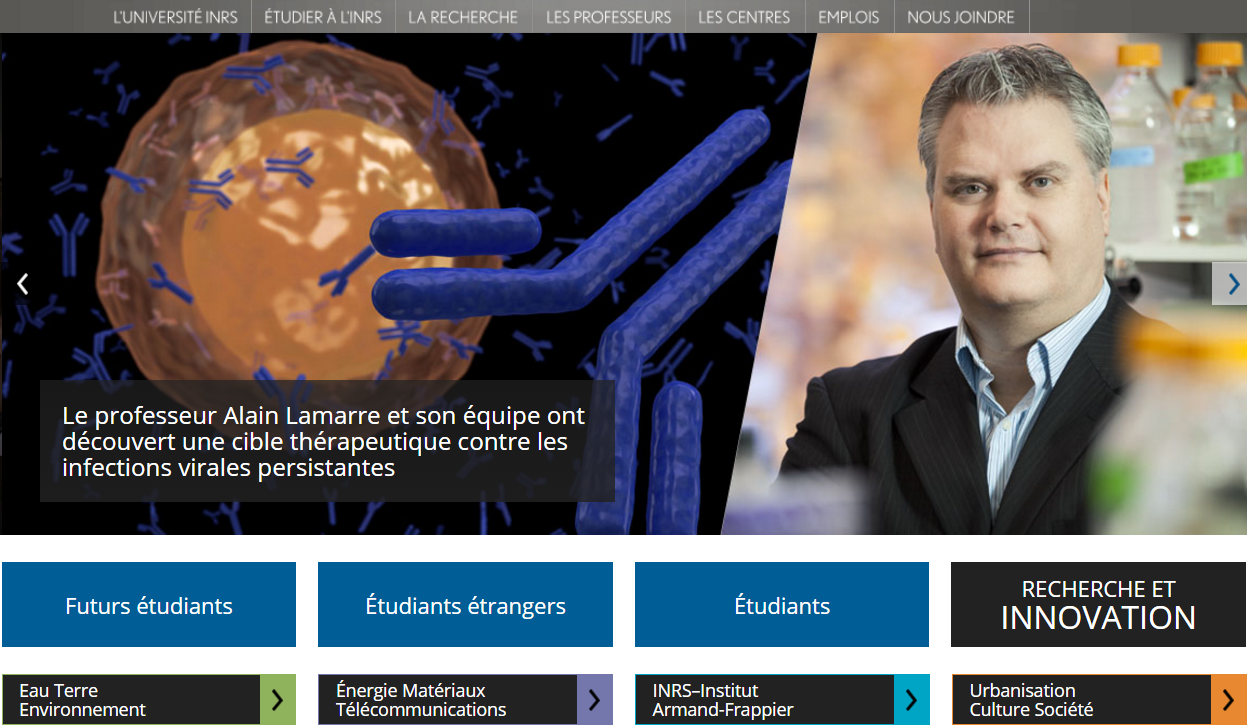 Region : Quebec
City : Quebec City
Web site : www.inrs.ca
The National Institute for Scientific Research (INRS) is a research and training university of 2nd and 3rd cycles. The first university in Canada for its research intensity (grants by professor), INRS brings together 150 professors and nearly 700 students and postdoctoral fellows in four centers in Montreal, Quebec City, Laval and Varennes. INRS is one of the ten components of the Université du Québec (UQ) network. INRS is headquartered in Quebec City. The INRS publishes PlanèteINRS.ca, a webzine presenting the research advances achieved within the university.
Research Centers
The National Institute for Scientific Research is composed of four centers:
Center Eau Terre Environnement, located in the city of Québec, devoted to the protection, conservation and development of water and land resources;
Center Énergie Matériaux Télécommunications, located in Varennes and Montréal, is a center of excellence in research, innovation and training in the fields of advanced materials, nanotechnologies, photonics, telecommunications and sustainable energy ;
The INRS-Institut Center Armand Frappier, located in Laval, which contributes to Québec's efforts in research and technology transfer in the field of human, animal and environmental health;
Center Urbanization Culture Société, located in Montreal and Quebec City, devoted to urban studies, culture, public action and the social sciences.
Chairs, Groups and Networks
The research mission of the INRS is oriented towards the cultural, economic and social development of Quebec. In this sense, the professors of the four thematic, multidisciplinary and sectoral research and training centers constituting the INRS work in collaboration with partners in the public, parapublic and private sectors. Several professors of INRS are responsible for groups and research networks or holders of chairs bringing together scientists from here and elsewhere recognized for their expertise.
Programs
The Institut national de la recherche scientifique offers programs in:
Water, Earth and Environment

Masters in water sciences
Doctorate in water sciences
Masters in earth sciences
Masters in earth sciences - environmental technologies
Doctorate in earth sciences

Energy, Materials and Telecommunications

Masters in energy and materials sciences
Doctorate in energy and materials sciences
Masters in telecommunications
Joint Network IT
Doctorate in telecommunications
Masters in telecommunications

INRS - Institute Armand Frappier

Masters in experimental health sciences
Masters in applied microbiology
Masters in virology and immunology
Doctorate in virology and immunology
Doctorate in biology

Urbanization, Culture and Society

Masters in urban studies
Doctorate in urban studies
Masters in demography
Doctorate in demography
Masters in research practice and public action
Sources : Wikipedia, www.inrs.ca