Canada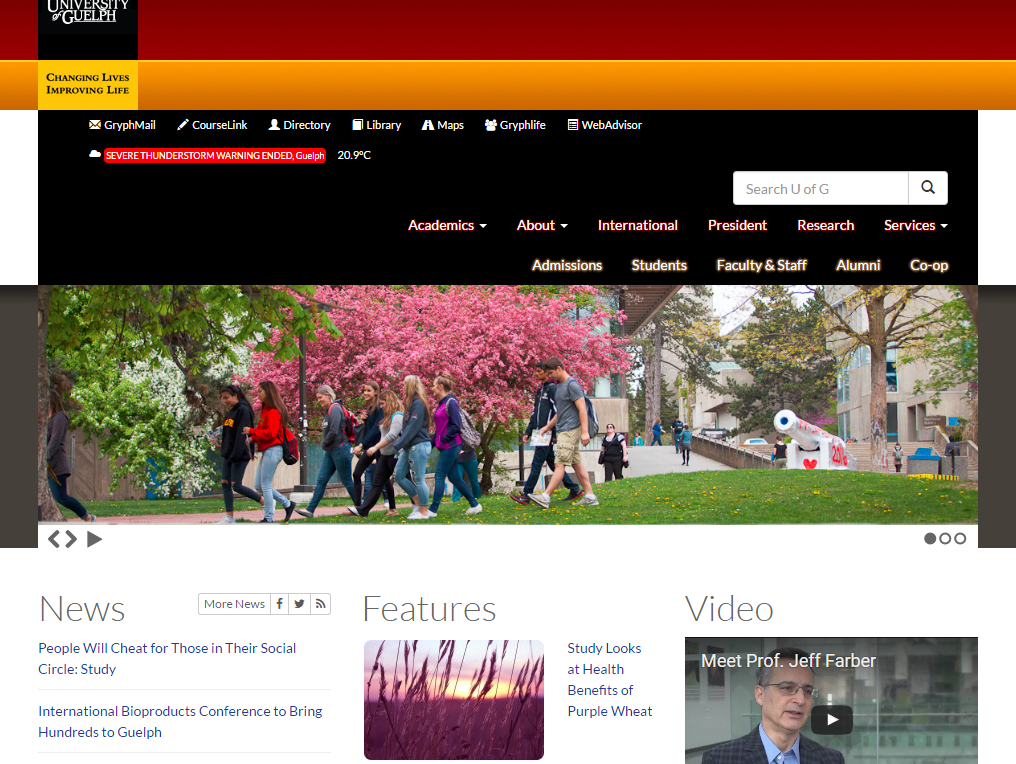 Region : Ontario
City : Guelph
Web site : www.uoguelph.ca
The University of Guelph (U of G) is a comprehensive public research university in Guelph, Ontario, Canada. It was established in 1964 after the amalgamation of Ontario Agricultural College, the Macdonald Institute, and the Ontario Veterinary College, and has since grown to an institution of more than 32,000 students (including those at the Humber campus) and over 1500 faculty (academic staff) as of fall 2015. It offers over 94 undergraduate degrees, 48 graduate programs, and 6 associate degrees in many different disciplines.
The Veterinary medicine program at the University of Guelph has ranked 4th in the world. The University of Guelph is ranked 5th in Canada in Maclean's "University Rankings 2016" in the Comprehensive category, which includes universities that conduct a significant degree of research and offer a wide range of undergraduate, graduate and professional degrees. It is given top marks for student satisfaction among medium-sized universities in Canada by The Globe and Mail. It has held these rankings with its reputation, innovative research-intensive programs, and lively campus life cited as particular strengths. According to Journal of Hospitality & Tourism Research, the university's Hospitality and Tourism Management program has Canada's highest research index. The University of Guelph has also been ranked 50th by Times Higher Education in their list of the top 100 universities under 50 years old. The university has a key focus on life science and has ranked 76-100 in the world by ARWU.
The faculty at the University of Guelph hold 39 Canada Research Chair positions in the research areas of natural sciences, engineering, health sciences and social sciences. Recent academic achievements include the first scientific validation of water on Mars, Alpha Particle X-ray Spectrometer (APXS) on board the Curiosity Rover, and the Barcode of Life project for species identification.
Academics
Profile and programs
The University of Guelph offers over 90 majors in 13 degree programs and 63 Open Learning/Distance Education Opportunities. The overall average for all students entering Guelph is 82%. Guelph students also have the highest graduation rate among Canadian comprehensive universities (at 89%), 5.8% higher than the national average. University of Guelph has been stated to be the best comprehensive university of Canada by Macleans magazine in 2006 and 2007. The school is noted for receiving the more health related research funding than any other Canadian university without a medical school and for having one of the highest proportions of life science expertise per capita than any other university in North America. This has led to the University's focus on health, hospitality, tourism, food, environment and community.
Faculties
The University of Guelph consists of seven faculties (or colleges, as they are known at Guelph):
College of Arts
College of Biological Science
College of Business and Economics
College of Hospitality and Tourism Management
College of Physical and Engineering Science
College of Social & Applied Human Sciences
Ontario Agricultural College
Ontario Veterinary College
Other areas of academic specialization include the:
School of Computer Science
School of Engineering
School of English and Theatre Studies
School of Environmental Design and Rural Development
School of Environmental Sciences
School of Fine Art and Music
School of Languages and Literatures
School of Hospitality and Tourism Management
Open Learning and Educational Support
University of Guelph-Humber
The University of Guelph, along with University of Waterloo and Wilfrid Laurier University is a member of the Tri-University History group, which combines the history departments of the three universities at the graduate level. Graduate students are registered at one of the three universities according to their supervisor, but can take courses at any of the campuses. This allows the group to have more diverse course offerings more efficiently. The University of Guelph specializes in Scottish History, as well as local and rural history.
Joint graduate programs
Guelph-Waterloo Center for Graduate Work in Chemistry and Biochemistry (GWC2) is one of Canada's largest and most successful graduate schools
Guelph-Waterloo Physics Institute (GWPI) is a joint graduate program offered by the Departments of Physics at the University of Waterloo and Guelph
Guelph-McMaster Collaborative MA Program in Public Policy and Administration
Tri-University Graduate History Program (Waterloo, Laurier, Guelph)
Crossways in Cultural Narratives, Erasmus-Mundus MA (Guelph, Perpignan, St. Andrews, Sheffield, Bergamo, Santiago de Compostela, Lisbon, Poznan)
Ranking and reputation
The University of Guelph ranks 14th among the top 50 research Universities in Canada, the highest spot for a Canadian University without a medical school. In 2012, the Higher Education Strategy Associates ranked the university 5th nationally in Social Sciences and Humanities. The University of Guelph has achieved a five-star rating from Quacquarelli Symonds (QS), publishers of the annual World University Rankings.
In the Canadian University Report by the Globe and Mail, Guelph was ranked in the top 3 in 15 of 19 categories among medium-sized universities. This included the top spot in course registration, academic counselling, student residences, information technology, campus atmosphere, environmental commitment and work-play balance.
The University of Guelph is ranked by Maclean's magazine as the fourth best comprehensive university in Canada ("comprehensive" indicating institutions with significant research activity and a range of programs at the undergraduate and graduate levels, including professional degrees). The University of Guelph has ranked as a top 3 of comprehensive universities in Canada ranking #1 in 1999, 2002, 2003, and 2006.
According to a study in 2012 by The Impact Group, the University of Guelph is Canada's most inventive university in terms of invention disclosures per full-time faculty member, and the number of inventions per million dollars of research funding.
Ties with industry
Canadian Space Agency
Supports current research and innovation for instruments used in space, primarily the APXS found on the Mars rovers and Mars Science laboratory. Other inititatives include development of air filters for manned spacecraft and research on changes in skin sensitivity and balance experienced by astronauts in space.
RIM
The University holds a partnership with Research In Motion (RIM). Ground is being broken through the Center for Mobile Education and Research, the Chair for Women in Science and Engineering and the financial and educational support RIM extends to the University of Guelph. The Center for Mobile Education and Research (CMER) is housed within the Department of Computing and Information Science at the University of Guelph. The mission of CMER is to engage in leading edge applied research to develop state-of-the-art applications and services to facilitate and enhance mobile education and learning, and to provide leadership in integrating mobile devices into the computer science curriculum.
Career fair at Bingeman's Park
A collaborative effort between the University of Waterloo, the University of Guelph, Wilfrid Laurier University, and Conestoga College, The Partnerships for Employment Career Fair is the largest in the country.
OMAFRA - U of G Partnership
The agreement between the University of Guelph and the Ontario Ministry of Agriculture, Food and Rural Affairs, attracts a critical mass of research expertise to the University and the city.
Sources : Wikipedia, www.uoguelph.ca